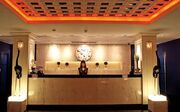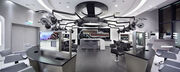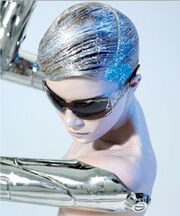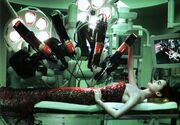 "Elegance With an Edge"
This motto, mounted on the wall behind the reception desk in graceful cursive script and mirrored gold, is apt. The Body Shoppe feels much like a luxury spa or hotel with an old-fashioned art deco city elegance; gleaming black marble countertops and tile, rich dark-stained walls and wood tables, black leather furniture, chrome trim, and the occasional potted plant to break up the sterility.
Located in the Galleria, the Body Shoppe offers cutting-edge services and procedures for the LATMA elite. Ultra-fashionable cyberware, cyber accessories, and maintenance services can all be had here.
Services
[
]
Massage treatments and therapies

[

]
"It's no secret that life in LATMA can wear you down. But a visit to our famous Salon Stylistique or an hour with one of our master masseuses can get you back on top. Come in for one of our Rejuvenation Therapies for a targeted treatment, or several at once with one of our Therapy Packages -- after a day at The Body Shoppe, we guarantee you'll feel like a new person."
Cyberware and BodyForm™ modifications

[

]
"The Body Shoppe presents BodyForm™ implant and body modification packages, for your perfect, or better-than-perfect body. Why settle for what God made you, when we can make you better?"
BodyWorks elite cybersurgery suite

[

]
"The MCS is truly cutting-edge - if you'll excuse the term - there's nothing that comes remotely close to the cleanliness and efficiency that this arrangement can claim. The end result is perfection, every time. Truly eine schone Maschine." -- Dr. Reinholt Bergen, discussing the Messerheit Cybersurgery System in Chromeworks 2047.
Troupe Zone
[
]
The Body Shoppe is a Blood and Chrome troupe zone, and operates under the troupe policies. Any questions, please feel free to contact ChromeST.