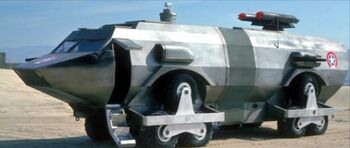 Paladins were land vehicles designed for operation in harsh environments like the Wastelands. Where as the
ARC
land craft were designed to be a portable laboratory, the Paladins were designed to provide defense and security for them. 
Designed to be operated by two individuals (driver and weapons) and carry an additional six security / soldiers, the Paladin was equiped with a heavy calibur machine gun on its top (turret) that was controlled by the gunner inside as well as a pair of short-range, high-yield missles that could be used to remove obstructions should the research convoy be trapped by a landslide. 
Crew Compliment: 2
Security: 6
Twin 50-cal turret guns (2000 rounds average)
Twin missles turrets (6 missles total)
Max speed = 60 mph
Longevity = 12 hours of operation before refuel. 
EMP Shielded (since they were designed for radiation research)
Resources
Edit
Resources of 5 are required to legally possess such a vehicle. Typically two are assigned to protect an ARC vehicle. 
Community content is available under
CC-BY-SA
unless otherwise noted.